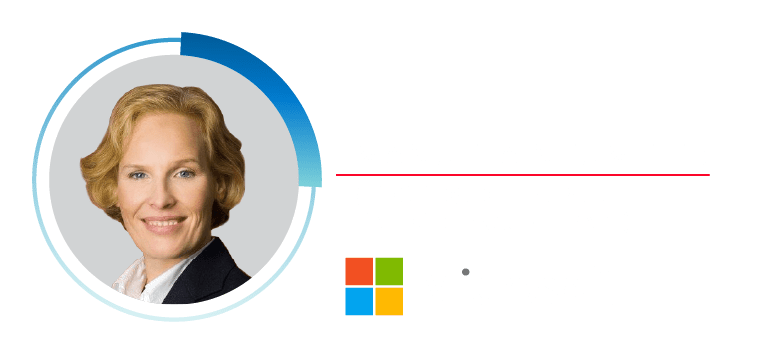 Manuela Neumeier is APAC`s Transformation Lead. In this role she leads our Microsoft  organization transformation journey – focusing on building culture, organizational capabilities and business agility to best serve our people, our customers and our partners. Empower Success is our Microsoft Culture Change Initiative to deliver on this with pillars for Growth, Agility and Success.
She has more than 20 years of combined experience in Sales and Channels cross different partner types like Solution Integrator, TK Channel, Distribution and cross all Segments and Customer audiences.
As a senior leader and people manager, she has extensive experience to optimize cost, deliver profitability targets and ultimately to manage change. She is well versed in the different aspects of the IT Industry and the fast changing yet demanding environments we all face daily.
Manuela appreciates the extensive experience she gained in APACs' multi-cultural international environment in both well-established and (very) developing markets and understand and conquer the related challenges.
From a personal perspective, Manuela is married since 21 years and loves to combine her passions in travelling (now more through magazines ..), cooking and fitness.
Raju Chellam is Vice President of New Technologies for Fusionex International, an established, multi-award winning IT software group that specializes in Analytics & Big Data. Raju has been in the ICT industry for the last 37 years. He joined Fusionex in May 2017. He was previously Head of Big Data & Cloud Practice – as well as Healthcare & Government segments – for Dell South Asia region (includes Asean, Indo-China & South Asian countries except India).
Raju is a Member of the Singapore NCCAC (National Cloud Computing Advisory Council), hosted under IMDA (Info-communications Media Development Authority of Singapore). He's also Honorary Deputy Chair of the COIR (Cloud Outage Incidence Response) Group, hosted under Spring Singapore. He is currently also the Hon Vice Chair of the Cloud & Big Data Chapter at SiTF (Singapore IT Federation) & the Hon Secretary of the Cloud Chapter of SCS (Singapore Computer Society). He was previously a Hon Past President of the BCG (Business Continuity Group) at SCS.
Prior to joining Dell in 2011, he was Managing Director of TechTrenders Asia, a boutique management advisory firm that helped companies navigate new technologies in virtualization, DC optimization and migrating legacy apps to a cloud computing platform. He has previously worked in Hewlett-Packard, AMI Partners Inc (Vice President of APJ) and as IT Editor of The Business Times, Singapore, for a decade.
Seats are SPONSORED and LIMITED on a first come first serve basis. Sign up now before it's taken up!