Encouraging business growth through cultural and digital transformation. We inspire lives to adapt to the Fourth Industrial Revolution.
We improve your learning experience and advance your career opportunities with our vast array of upskill and reskill programs.
PEOPLElogy has grown leaps and bounds since its inception in 2002. Having begun as a training solutions provider, we value the feedback of the people we serve. Through their feedback, we learn what our learners want and how we can improve their learning experience. We understand the need for our nation to embrace cultural and digital transformation in the age of the Fourth Industrial Revolution (IR 4.0). Hence, we have collaborated with multiple government agencies to provide scholarships and a wide array of courses and certifications to encourage our learners to upskill or reskill themselves to keep up with the demands of the contemporary workplace. Our sustainability efforts do not just include our business transformation efforts but also helping the needy.
Corporate Social Responsibility
Since our inception in 2002, PEOPLElogy Group has collaborated with multiple government agencies to give back to the community by elevating their digital and IT literacy so they may contribute to improving Malaysia's IR 4.0 efforts, thus improving Malaysia's economy.  Since then, PEOPLElogy Group has partnered with Yayasan Peneraju Pendidikan Bumiputra and Fusionex to introduce Big Data programmes to learners.
In 2021, we acquired partnerships with  Kementerian Pengajian Tinggi and PERKESO and introduced Cloud Computing and Cybersecurity programs on top of our Big Data programs. In 2022, we acquired partnerships with UNIMAS, ILSAS, MDEC, MYWiT, and MiGHT and introduced PMP programs to go along with our Big Data, Cloud Computing, and Cybersecurity programs.
Along with offering courses to assist learners in improving their IT and digital literacy, PEOPLElogy Group also helps those in need through the following initiatives and campaign contributions: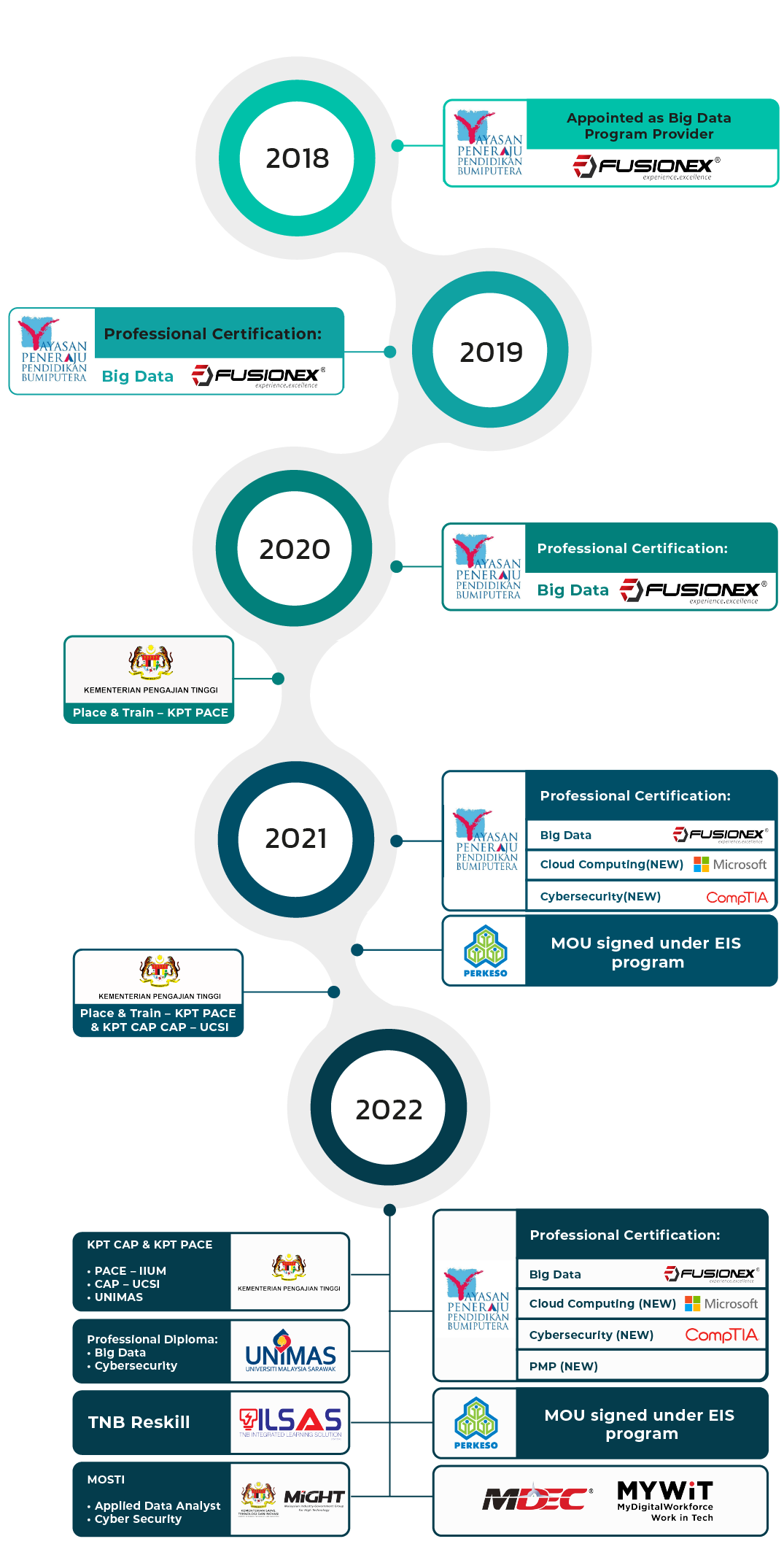 Corporate Social Responsibility (CSR) efforts
Giving out free classes
We give free classes to people who wish to continue their journey of learning but don't have the necessary funds to fulfil their educational or upskilling pursuits. 
Charity
We encourage our employees to donate money, clothes, and additional resources to the needy and those afflicted by unexpected events to ease the burden on them.
Blood donation drive
There are many patients out there in need of a blood transfusion. We are doing our best to donate blood and transfer it to those who need it. We believe that a drop of blood could save a life.
sponsorship programme to working adults who are looking for the opportunity to be professionally certified in the Big Data industry.
Build A Future Team (BAFT) is an enterprise community of professionals built on the fundamentals of the Fourth Industry Revolution (4IR) to Discover talents, Develop strategic business objectives, and Digitalise processes to optimise the organisation's success.
Aspiring to be the most impactful enterprise community, BAFT collaborates with a myriad of partners primarily Business Partners, Impact Partners, and Technology Partners to bring forward engaging and inspirational events, conferences, and summits to ensure that its members are fortified with the latest industry knowledge and trends while picking up insights from industry thought leaders and key figures.
What we provide:
WEBINAR
Virtual series of webinars with each series having its own subject matter expert sharing his or her experience with regards to the topic, showcasing to the crows how to combat and address the concern to build their future.
CONFERENCE
A physicals conference where a group of industry thought leaders come together in one single platform sharing their insight regarding the market trends and latest practices. Like-minded peers are also able to connect and network with one another in this fantastic platform.
CONNECT
BAFT Connect is an intimate physical gathering of top industry leaders, discussing the upcoming trends and way forward to build a successful and efficient future team to ensure the organization's success.
ANNUAL SUMMIT
The annual summit is a physical event where all chapters of Build A Future Team gather in a single platform. There will be plenary sessions keynotes, panels, think tanks and many more covered in this exclusive only event.
PEOPLElogy Development, is the authorized learning partner to top technology providers. The courses and  certifications offered under New Horizons are recognized worldwide and can be used to leverage our learner's career opportunities.